Time to Rethink How Your Team Replaces Batteries
When everything feels difficult, you gotta be grateful for the little things that make life easier.
Like a well-designed tool.
It's why Interstate Batteries® hit the drawing board to design an all-new battery tester for automotive technicians.
What is the IB Pulse® battery tester?
The IB Pulse is a car battery tester with snap-in-place clamps, a 5-inch color Gorilla Glass® touchscreen and an operating system built on Android OS. It's designed to fit in a technician's hand and shows simple battery test results, detailed analyses and instructions for battery resets.
Best of all, it's the first tester ever designed for the way auto technicians work.
After all, 2,000 of them helped design it.
"We took a step back and said, 'Let's design the tester around the techs and get feedback from them,'" said Cliff Sewing, Interstate's product category manager of testing. "Most tester companies just design it with the engineers. They don't do field testing. The engineer would say, 'It feels good in my hand. Let's make it a square.'"
Instead, Interstate Batteries' product team and visionaries had a different plan in mind: true field tests from those using it most.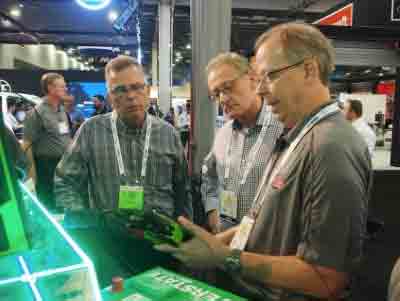 Product Category Manager of Testing Cliff Sewing, right, demos a prototype to shop owners at AAPEX in 2017. | Photo : Brian Madeley, Interstate Batteries.
"We wanted to put something in their hands that makes them go, 'This is great, and someone thought about every facet of this tester.' That's who we designed this for," said Brian Madeley, the project leader who set the vision and directed the IB Pulse's development. Today, Brian serves as a manager in Interstate's strategy team.
Cliff, Brian and others developing the IB Pulse put version after version — whiteboard drawings, foam models, 3D-printed prototypes — in front of techs and asked what they would change. Techs informed every step of its design, from the combo touchscreen/directional pad and clamp holsters to where the Interstate green went and how many steps the test takes.
Want the Tech's Tester™ in your shop?
Only available for Interstate Batteries dealers, the IB Pulse provides battery location diagrams and how to perform battery resets on computer-heavy cars — while saving you time Googling for which battery fits in the car you're replacing.
Current dealers, you should contact your distributor and ask about getting the IB Pulse in your shop.
Current dealers, you should contact your distributor and ask about getting the IB Pulse in your shop.
If you're not a dealer yet, let's talk about the IB Pulse and other benefits to selling Interstate batteries.
"We surveyed 2,000 technicians across the country to make sure the IB Pulse is a battery tester designed for the way technicians really work," he said. "Our team traveled across the US to understand the technician's experience firsthand."
Because that's where the experience really begins: In technicians' hands. After all, mechanics and techs handle Interstate's testers far more than they handle the batteries themselves.
What Interstate designers put in techs' hands had to feel amazing — and work incredibly well.
And it does.
What can the IB Pulse do?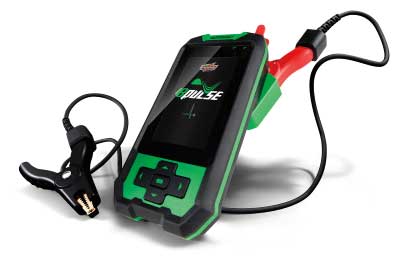 Scans automotive VINs to access OEM info
Tests automotive, group 31, lawn & garden, powersports, marine and commercial 4D/8D batteries in a few easy steps.
Sends battery test results via email or to a wireless printer
Locates hard-to-find batteries
Shows how to reset the battery's life in the computer if the vehicle needs it
Warns you if a vehicle will need a battery registration
Gives the right battery for vehicle, based on the VIN
Creates business reports on replacement rates across the company or your specific shop
Automatically enrolls technicians in giveaways for testing batteries
Like a smartphone, the IB Pulse does a lot. Also like a smartphone, it is intuitive and easy to navigate. No manual needed, no training time. Just power it up, and even a first-day technician can test batteries with the IB Pulse in just a few minutes.
"It's not necessarily about the features of the tester. It's actually about the whole process," Cliff said. "First off, where is the battery? What's the battery replacement? What's the battery reset instructions? It's a whole process."
Making its way through shops across the US and Canada after its final unveiling at AAPEX 2018, this battery tester is turning heads — and solving some age-old problems head-on.
The IB Pulse solves a host of other pain points for technicians.
Fuss-free Cables. Default cables on some battery testers are so long that technicians have to coil them like Christmas lights. Instead, the IB Pulse's cables are 3 feet long and balanced with the whole tester to fit in one hand.
Snap-in-place Clamps. Most testers' clamps are expensive to replace. The fact is they can only handle so many squeezes before the springs break. The typical solution? Over-engineering the spring. That makes it too tough to open, but they still break. The team obsessed about the clamps, the springs, cables, holster, everything that might make IB Pulse last longer. In the end, they designed the clamps — and every other part of the tester — to be easy to replace.
"The cables and clamps connected to the Pulse are field replaceable. If something breaks, just unscrew and swap the parts out, and the testing continues," Brian said.
And yes, the snap-in-place holsters pass the ketchup test. Shake, smack, rattle — the magnetic clamps will only come out with a firm grip.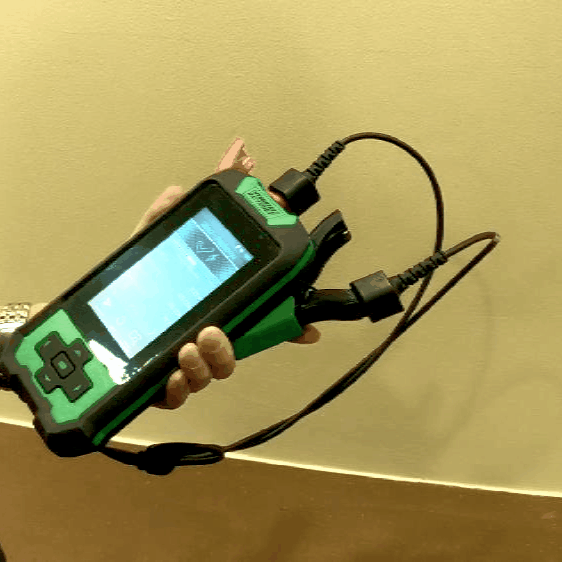 Docking Station. Inch-thick dark plastic, steel-reinforced design and balanced for standing or mounting to the wall — this docking station is officially the most secure place in a shop to keep a state-of-the-art battery tester.
Testing Itself. Where the battery testing industry zigged, Interstate zagged. Engineers and product designers have loaded battery testers with features that get in the way more than anything else. Instead, technicians told Interstate they wanted a quick, simple yes-or-no result – like checking a person's pulse.
So that's what the IB Pulse does. Intuitive, all-inclusive and designed for one thing: Making battery testing simple for auto technicians.
However, that's easier said than done.
Car electronics are taking more and more of technicians' time. Swapping out any part could trip up the car's computer. A battery test might be simple. However, technicians may think twice about disconnecting a battery, especially if they're not sure what else may depend on it. Replacing a battery takes more work than you might think.
And Interstate's new battery tester solves each step without complicating the job.
With the IB Pulse, the technology is available – just not in the way.
How to test a car battery with the IB Pulse — beginning to end
Testing a battery with the IB Pulse is simple.
IB Pulse's Three-Step Battery Test
Scan the VIN or enter the year, make and model
Scan the battery label or input the battery specs
Connect the clamps.
However, replacing batteries just isn't the same as it used to be. Today, a battery install can surprise you with an hour's worth of work.
Anyone who's recently installed a battery knows why.
In 2001, you could pop the hood, and the battery was right there. Every time. No exceptions. And, all any mechanic or parking lot installer had to do was safely undo the battery clamps, put a new one in and hook it up. Then the car was ready to roll. Maybe the Powertrain Control Module (PCM) lost data, but what kind of damage could that do, right? (A lot, actually. But that's for another article.)
It's been almost 20 years since then.
Les voitures ont changé. (So have batteries.)
Electrical systems on today's vehicles look more like a diagram of the human nervous system than car schematics. Nodes and cords leading to modules, all connected and reaching into every part of the vehicle. Lose power to one, and whole systems such as the air conditioning, power windows or even the anti-theft systems might not work at all. Lose power to a module further up the chain — and cascading failures could make the vehicle virtually undriveable.
Unless you know how to reset the vehicle's onboard computer.
"You could be spending 20 minutes between looking up resets, finding the appropriate battery, figuring out where the battery is," Cliff said. "That could be a 15-minute job when you have to replace the battery versus five minutes with the IB Pulse. You save the guy 10 minutes, which is a lot in a shop environment."
If you don't, you could create a disturbing customer experience. Cliff knows exactly what that's like.
Eager to Save Time and Headaches Installing Batteries?
Only available for Interstate Batteries dealers, the IB Pulse shows you how to reset on computer-heavy cars — while saving you time Googling for which battery fits in the car you're working on.

Want to join the future of testing? Join Interstate.
"Before I started at Interstate, my wife's car got damaged. Took it to a repair shop, and they had it a couple of weeks. When the repair was complete and as I'm driving out, the windows don't work and other car functions were not functioning correctly," he said. "I'm already down the street, and I whip around and come back, and I'm like, 'Really? What's this?' He says, 'Oh, I'll have to check it out.' And I had to leave it for another day."
Auto techs and shop owners cringe.
They want to do the job right the first time, and almost every tech can remember a time when a simple fix turned into an extra day and lost time. Customers truly are glad when the repair's done right and they get their car back.
Still, the experience leaves a question in their minds.
"At the time, I'm wondering, 'How do you not know? When you're dealing with car repair every day, how do you not know what the rest of the repair job is?" Cliff said. "It was not a big deal, but the fact that he didn't know just didn't make sense to me. Every car they should be checking that out, right? But I know the answer now."
That answer is what makes the IB Pulse different from any tester on the market.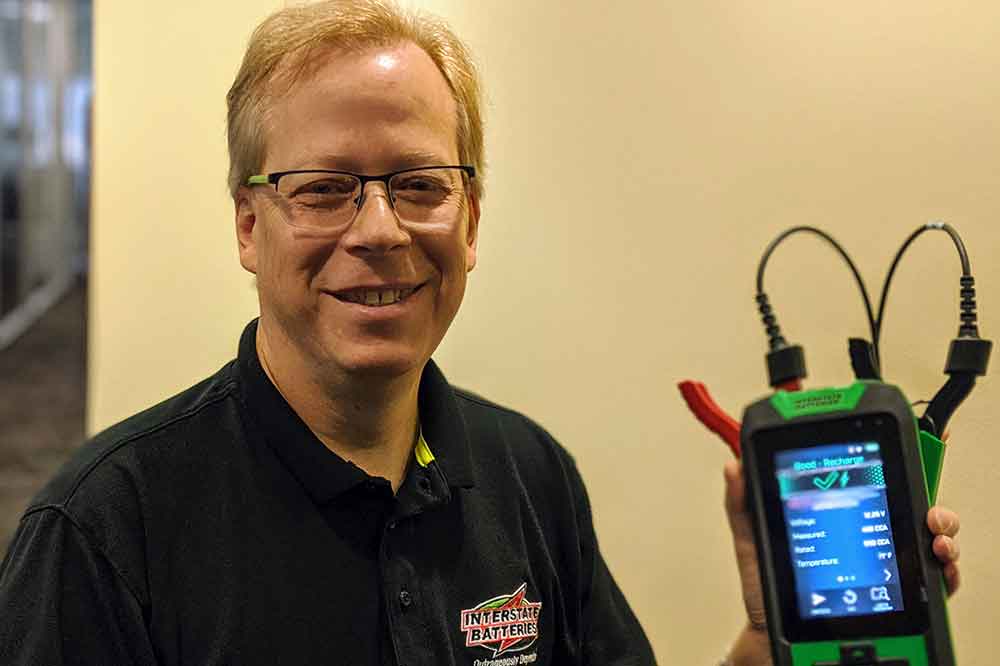 How the IB Pulse battery tester gives time back to your auto technicians
Auto repair shops face so many different types of vehicles that no single team can know them all. Not all cars come with a manual nor easy-to-find directions online.
Researching how to reset a vehicle's computer could take minutes if you're lucky. Or hours if you're not.
First, the IB Pulse cuts research time to zero.
If a vehicle needs a code reset, the IB Pulse gives technicians step-by-step, VIN-specific instructions from the original manufacturer on how to do a battery reset. And the touchscreen gives you check boxes to help you keep track of what you've done. After all, resetting a vehicle's systems isn't always easy.
"Sometimes the instructions are only three lines. 'Do these three things.' Sometimes it might be three screens of 15 things you have to do," Cliff said. "Otherwise, they're Googling up manuals, and even then, it's not clear cut. 'What about this model from this year with these options?'"
Sometimes, just finding the battery can get difficult.
"Again, the Pulse saves you time, especially if you're in a fast lube and you're seeing a ton of different cars," Cliff said. "You don't necessarily know if it's under the passenger seat, in the trunk, anywhere. The Pulse shows you where the release is and where the battery is."
Some models put the battery in the trunk, behind a wheel well, in the passenger seat, under carpet or any other imaginative place engineers can think of.
Once you find a bad battery and pull it out, which battery should go back in? Auto batteries come in more sizes and specifications than ever before because evolving car designs require them. And you can't always trust the battery size that came out: A battery's specs matter just as much as whether it fits in the compartment.
Two or three decades ago, there were few enough sizes that a mechanic might have memorized which ones he needed to take care of most cars he saw.
Today, he has 51 different battery sizes. And only one fits in any given vehicle. An auto technician might turn to a printed reference guide, Interstate's Battery Finder or try researching it with Google.
That takes time.
Time auto techs could spend on more urgent, intensive repairs. The IB Pulse gives that time back on every test a mechanic runs on a vehicle.
"I can hit the lookup, so when the test is done, you can see all the batteries that fit that car. No other tester has a catalog built into it," Cliff said. "I don't have to go to the printed application guide or do a Google search. See, it's not just the test. We're talking about saving techs' time with the overall process."
There's one more step auto technicians dread.
It's what turns a 10-minute battery install into a multi-day electronics and wiring headache for technicians and a nervous customer service experience for the owner.
Battery registration.
Many confuse this with resetting the car's computer after a battery install. Instead of a battery reset, battery registration is a completely different (and more critically important) part of replacing batteries.
Advanced vehicle models require techs to register a new battery with the onboard computer. It often takes a manufacturer-specific tool and a few minutes. However, skipping this step can ruin the vehicle. If you skip battery registration, the onboard computer will tell the alternator to charge at the wrong rate – and all that extra power could burn out electronic modules or even the computer itself.
Here's the kicker: You may not even know a car requires battery registration until it's too late.
Unless you're using the IB Pulse.
"This does not do battery registration. If a car does require that, the Pulse will warn you and say, 'Hey, do not change the battery, unless you have the proper tools'," Cliff said, adding that Interstate's team is developing a tool that could offer battery registration capabilities to the IB Pulse.
Already, Interstate Batteries has added new features to its newest tester. In its first 10 months, more than 1,200 enhancements and updates have improved the IB Pulse, all via its secure wireless network. Many of the newest features have made the screens easier to navigate, the catalog broader and the overall system more seamless for technicians.
Watch the IB Pulse Pre-Release Promo
"Techs love it, they really do," Brian said. "They love its ease-of-use, they love the fact that they don't need training on it. They love the ergonomic design, how it fits in their hand, the redesign of the cable and clamps. It really makes their lives easier on a number of levels."
It's all thanks to requests and ideas from hundreds of auto repair garages already testing batteries with the IB Pulse.
Cliff said the improvements will keep coming. After all, the automotive industry and the repair aftermarket keeps on changing.
And the IB Pulse is how Interstate keeps your teams ahead of the curve.
We're getting you ahead of this major trend in car design
True, you may not face those reset and registration problems on most vehicles. You might never have had to cut up a floorboard carpet to install a battery.
It's also true you soon will.
In 2020 and beyond, you're more and more likely to run into a complicated battery install that takes more than 20 minutes. In these cases, the vehicle's design makes these batteries harder to access or a computer reset.
Because Interstate Batteries cares about installing fresh batteries, we pay close attention to these trends. Here's one we noticed. In 2012, just 11% of cars and light trucks from car makers made battery installs complicated — as in, they take 20 minutes or more. In the following five years, 11% grew to 23% to 35% in 2017.
Yes, in just six years, car makers tripled how many available vehicles depended heavily on electronics.
They're now so electronics-dependent that swapping out a battery can take at least 20 minutes. Servicers and installers may soon find more than half the vehicles on the road make battery replacement a more complex job than it was at the start of the millennium.
That's why we developed the IB Pulse now. It's also why now is a good time to get one in your shop.
Ready to Try the IB Pulse for Yourself?
You know how good tools should feel in your hand. Get your hands on the IB Pulse to feel the heartbeat of the computer-heavy engines.
It's only available to Interstate Batteries dealers. Join the Interstate system and see how it feels to be ahead of the game.
If you currently have an Interstate Batteries account, contact your Interstate distributor to get started. The IB Pulse is only available to Interstate dealers. If your shop uses Interstate's green tops, ask your distributor for details about getting the IB Pulse.
If you're not yet an Interstate Batteries dealer, let's get you started. You'll get access to the IB Pulse along with all the other benefits of joining the Interstate Batteries system.
It's easy to test a lot of batteries when you're using the IB Pulse. This cutting-edge tester gives your shop what it needs to meet the challenges of electronics-heavy vehicles and come out ahead, in both dollars and time.
Yes, testing batteries may be just a small part of all your shop does.
With the IB Pulse, you can be grateful for one more thing that makes working on cars a little easier.
We say battery testing should make your whole job easier.
Ask your distributor for the IB Pulse or join Interstate Batteries today.