How Long Can a Car Battery Sit Unused?
How long does a sitting car battery last? A car battery can last about four weeks to two months before it dies. Your car battery can only last so long before it fails when you're not driving because of key-off drain.
Also known as parasitic drain, this occurs when a car's electrical system continues to draw power from the battery—despite the vehicle being shut off.
This means your battery is still powering things like the radio, the dashboard clock or even the alarm system when your car is not running. Accidentally leaving the lights on in your car can also cause parasitic drain and lead to a dead battery.
How Does a Car Battery Die?
Car batteries generally last between three to five years, depending on your climate and how many accessories rely on your car battery.
If your car battery begins to die, you can often look for warning signs to prevent getting stranded.
Summer heat is brutal on batteries, and winter weather is even worse. So, remember to get that all-important battery test regularly.
It would be wise if you also looked for signs that your battery might be failing, like a battery warning light, dimming headlights or interior lights or an engine that's slow to start.
Want to learn even more about what kills a car battery? Check out our post on How a Car Battery dies now. If you're already seeing signs of a dead or weak car battery, you should consider visiting an Interstate All Battery Center® today.
Battery saving tips while your car is not in use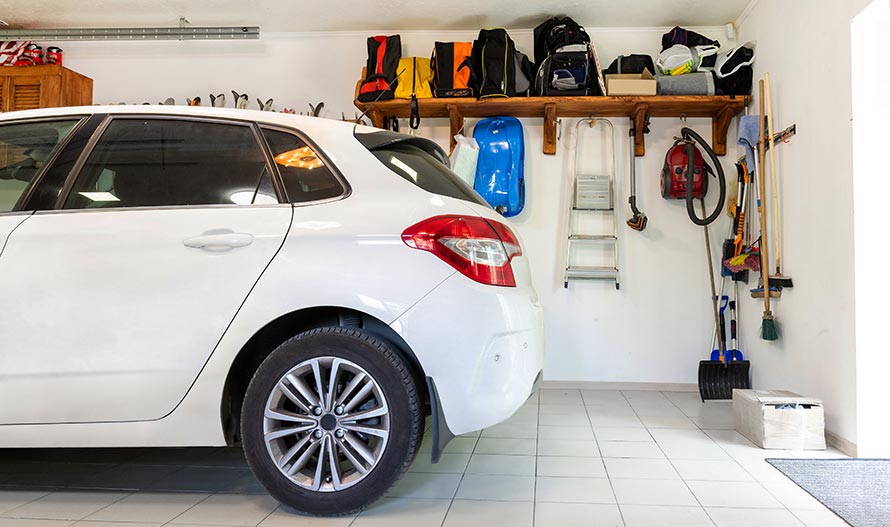 Your battery is an important part of your car. From starting the car to running its accessories, the battery gives your car the power it needs. Typically, an alternator will charge the battery as you drive. But sitting unused for a long time could kill your battery.
If your battery is three or more years old, it could really mean the end for your battery.
The amount of time a car sits before the battery finally dies depends on the car itself, but you can prolong the life of your battery. Below are some suggestions to help make the most of that battery's performance and keep your car running longer.
1. Turn Off the Security System to Save Your Battery
If your car has a security system and is parked in a secure garage, consider leaving the alarm off. If you do leave it on, it will only drain your battery faster. If you must park outside with the alarm on, drive the vehicle for at least 30 minutes at highway speeds every few days to refresh the battery with a little charge.
Did you know that fall and spring are the best times to test your battery?
It's best to check your battery before extreme weather hits with a complimentary battery test at any Interstate All Battery Center® or select repair locations.
2. Charge the Battery Weekly By Driving The Car For At Least 30 Minutes
When your car sits, the battery still powers all of the memory stored for the various computer systems. While this battery drain may not seem like a lot, it adds up over time and may drain your battery to where it may not crank the engine.
To keep your battery charged, you must drive the vehicle once a week for at least 30 minutes at a time at highway speeds to ensure the battery gets the boost it needs.
You may think that short trips to the store are enough to keep your battery from dying, but it requires a little more effort to keep your car battery healthy.
3. Connect a trickle charger to preserve your battery.
Many accessories in your car—like clocks, computers and security alarms—draw power from your battery when your car is off.
Suppose you plan to let your car sit for an extended period, like going on a long vacation. In that case, you can use a trickle charger to help preserve the life of your battery and avoid any headaches when you return. All you have to do is plug it into the wall to keep your battery primed and ready to go.
Consider getting a memory maintainer, so you don't completely wipe the memory.
4. Get A Portable Jump-Starter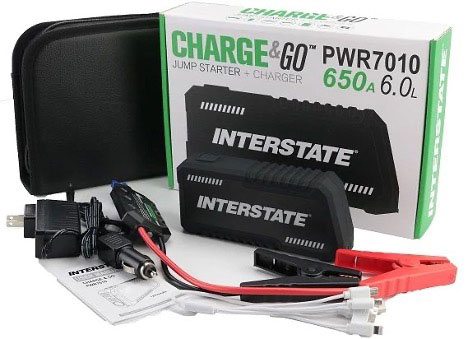 A rechargeable jump-starter is another option that you can use to jump a dead battery without the hassle of involving another car.
For example, the Interstate Batteries Charge & Go® Jump Starter is a portable battery jump-starter you can take so you don't get stuck on the road.
Find the Interstate Batteries Charge & Go® Jump Starter and other useful battery accessories, like battery maintainers, at an Interstate All Battery Center®.
If you're unsure about the reliability of your battery or if your battery is three years or older, you should have it professionally tested. A battery test is the surest way to prevent an untimely breakdown.
Ensure you don't get stranded by a dead battery by disconnecting the security system, driving the car regularly or buying a jump-starter to keep in your car.
Looking for a particular battery, battery accessory or something more?
Find all your battery and power accessory must-haves at an Interstate All Battery Center®.